Land Management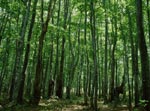 At Patterson Lumber Co., Inc. we are committed to the practice of environmentally-conscience, renewable and sustainable timberland management.
Being a four-generation family-owned and operated company, we take very seriously preserving a legacy of natural resources for the next generation to enjoy and responsibly profit from.
Our Professional Forest Managers will work with you to formulate a plan to achieve your land management goals today while increasing the long-term value of your woodlot.
Our passion is to work with you to properly manage and harvest your woodlot with the following objectives in mind:

Quicker forest renewal to the next harvest.
Higher quality timber.
Faster growth.
Better and more viable wildlife habitat.
Higher financial return to the landowner now and in the future.
Decrease in tree loss due to disease and insects.
Improved property access.
Greater property enjoyment and usability by the landowner.
Beautiful and valuable timber land for you to sell or pass on to your children.
Call us today and schedule an appointment with one of our friendly staff foresters.
Patterson Lumber Co., Inc.
Administrative Office
Wellsboro, PA
570-724-3210
• Hardwood Lumber Manufacturers
• Custom Widths and Color Sorts
• Timber and Land Purchasing
• Forest Renewal Management
• Dry Kilns • Export

Patterson Lumber Co., Inc.
Sawmill Office
Galeton, PA
814-435-2210