Our Legacy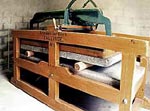 It all began in 1921 with a partnership between (my great grandfather) F.L. Patterson and D.W. Frazee. The two men operated a mangle roller bobbin manufacturing facility in Wellsboro Pennsylvania. Mangle rollers are hard maple spool-like components used at the time in the manufacturing of textiles (most were exported to Europe).
In 1924 F.L. Patterson bought out Frazee.
By 1927 the original bobbin-manufacturing plant was joined by a mill in Galeton, (Potter County, PA), and in Friendship New York. Prosperity followed hard work and by 1929 records show 100 employees and a significant profit.
Through the 1930s bobbin export decreased but the Wellsboro sawmill continued on.
In 1936 a retail building materials department was added in Wellsboro, then in 1948 the business was incorporated and Patterson Lumber Co. Inc. was formed.
1951 brought the purchase of the Emporium Lumber Co. sawmill site (in Galeton Pennsylvania) and surrounding timberlands.
By 1957 Patterson Lumber Co., Inc. was cutting about 4.5 million feet of lumber annually including: hard maple, cherry, beech, hemlock, birch and oak.
In the 1960s some major fires struck the Galeton sawmill and each time it was rebuilt.
In 1974 dry kilns were added which expanded the capabilities of the mill and diversified the customer base.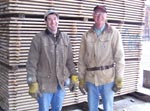 Now a fourth-generation, family-run sawmill, Patterson Lumber Co., Inc. employs the latest technological advancements to increase production and eliminate waste, while further increasing safety and lumber quality.
We hope that a visit to the Patterson sawmill will leave you appreciating the family atmosphere and legacy of excellence that began with my Great Grandfather F. L. Patterson in 1921.
Matt DeCamp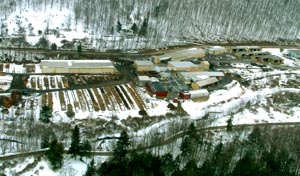 Patterson Lumber Co., Inc.
Administrative Office
Wellsboro, PA
570-724-3210
• Hardwood Lumber Manufacturers
• Custom Widths and Color Sorts
• Timber and Land Purchasing
• Forest Renewal Management
• Dry Kilns • Export

Patterson Lumber Co., Inc.
Sawmill Office
Galeton, PA
814-435-2210