Our Products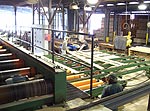 The Patterson Lumber Co., Inc. facility is staffed by lumber professionals who are committed to producing the finest quality hardwood lumber available from some of the highest-quality timber in the world!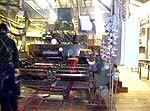 We continually invest in the most efficient and precise computer-aided equipment available to ensure maximum production output while retaining quality.
With over 500,000 board feet of kiln drying capacity and massive dry lumber storage warehouses, Patterson Lumber Co. Inc. is capable of delivering large quantities of export-ready hardwoods on time.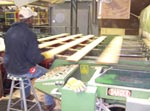 Every piece of lumber goes through a series of automated and manual checks to ensure that every piece is graded properly so that every customer receives the quality, size, and color of lumber that they require.
We offer a large selection of kiln dried 6 foot to 16 foot random width 4/4 (25.4mm) ash, birch, cherry, hard maple, red oak, white oak, and soft maple.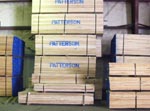 We also offer green lumber, hardwood veneer logs, pallet cants, pallet boards, bark, sawdust, and chips.
Contact Patterson Lumber for custom width and color sorts, and for pricing and current inventory levels.
Patterson Lumber Co., Inc.
Administrative Office
Wellsboro, PA
570-724-3210
• Hardwood Lumber Manufacturers
• Custom Widths and Color Sorts
• Timber and Land Purchasing
• Forest Renewal Management
• Dry Kilns • Export

Patterson Lumber Co., Inc.
Sawmill Office
Galeton, PA
814-435-2210